it's Valentine's Day today, the holiday of lovers! On such a day, each of us wants to look as beautiful as possible. However, regardless of whether you are going for a romantic dinner, a quiet evening for two or spending this time away from the commercial hustle and bustle with friends, it is worth taking care of a unique appearance. It will help you feel confident and dazzling. How to make a make-up perfect for Valentine's Day? Please feel free to post.
Makeup for Valentine's Day – a selection of cosmetics
The first step in preparing for Valentine's makeup should be choosing the products you want to make it with. This applies to both the undercoat coverage and the colors used.
It's best to prepare your clothes first and choose the colors of pink and eye shadow. For example, the burgundy shade of a dress can clash with heavy, colorful makeup, and warm red will dim over-light makeup. So Valentine's makeup should not be too bright or too delicate. We focus on classic elegance.
Makeup for Valentine's Day – what cosmetics will we need?
Moderation is important. A make-up that looks beautiful on Intagram up close will strike you with exaggeration and artificiality. We don't have to spend hours on makeup and apply multiple layers of products to look beautiful. Valentine's makeup should be fresh and glamorous and must last the whole evening. So what do we really need?
It is also not worth doing last-minute experiments on this day. Xxl false eyelashes? Maroon lipstick? Eyeliner and contouring for the first time in your life? No! Of course you don't have to do my makeup step by step. Do the make-up you already know and in which you always feel confident.
It should be tailored to your needs, cover imperfections and
emphasize strengths. So if you have problems with your complexion, do a simple, covering makeup and focus on, for example, emphasizing shapely lips. However, if your skin has no visible blemishes, there is no need to cover it with layers of concealers and foundations. It is enough to unify the face color with bb cream and pull the cheeks with blush and highlighter to make the make-up fresh, juicy and you cannot take your eyes off it. So what do we really need?
Make-up base
Makeup for Valentine's Day must survive many hours, changeable weather, cold, sweat, etc. And we do not want to worry on this day that our carefully prepared look will start to wear off. Prepare the face with a base that will moisturize and smooth the skin and extend the durability of makeup. I chose the Wibo cosmetic, probably a well-known drugstore hit, which has an exceptionally interesting color and surprisingly good composition. However, it does not have the effect of silicone, artificial stretching of the skin, unlike many other face products.
Permanent lip makeup can also be a problem at dinner with drinks, but I can do that too. Lip liners. Outline the lips and fill them with a permanent wax-based pencil or a special lip primer.
Foundation and blush
For Valentine's Day makeup, I focus on naturalness and freshness. However, this does not mean giving up the opaque foundation. Unfortunately, I have heard the claim many times that organic and truly natural makeup must be done with mineral cosmetics. Yes, there are a lot of people who love it and I am a fan of many mineral foundations myself, but for big outings I return to traditional glam makeup and liquid foundations. However, I choose natural brands, without harmful ingredients.
Terra Naturi foundation is one of my favorites. This is a typical drop foundation that needs to be shaken. I apply it with a pipette. It smells slightly nutty, very pleasant and spreads like a dream. I apply a thin layer – mainly on the T Zone – with a beauty blender.
A necessary step in Valentine's Day makeup is the concealer
First, I cover the dark circles under my eyes with Alterra pink concealer. After that, I spread Terra Naturi light concealer under the eyes and in critical places. Finally, I press it gently into the skin with my fingers so it melts better and looks more natural. Before I powder it all with a transparent powder, I put a drop of Alverde peach pink liquid highlighter on my cheeks. It is heavily pigmented and has a light glitter in it, so be careful. However, when rubbed, the cheeks look fresh and girly.
Now it's time for the eyebrows
I make a very delicate filling with a brown Terra Naturi crayon. It is highly pigmented and waxy, so I don't need eyebrow mascara anymore. I comb and it's ready. If, like me, you focus on a strong eye, it's better not to make very showy eyebrows with pomade, it can look too overwhelming.
Makeup for Valentine's Day – what colors?
Another Terra Naturi product (not sponsored, I swear, although I do not hide my dream … :)) is a mini eyeshadow palette. I couldn't resist the colors and although it was not too cheap for such plastic, I bought it with travel in mind. It is small and contains matte and more sparkling shadows that theoretically will be used for all makeup. However, for today I chose a few more options.
I bet on a peach-burgundy eye, so I add mineral pigments. Tibetan Ocher and Cranberry from Kolorówka, dark wine from Rhea and my two matte diy eyeshadows in peach and mouve. I cover my eyelashes with the extremely lengthening Alverde mascara. My makeup will be very expressive, as you already guessed. This is because the dress is contrastingly bright and subdued, and the lights are dimmed in the restaurant. I know, because we go to the same elegant place every year, that's our tradition 🙂
Bronzer and highlighter
I contour my face very gently with the Alverde bronzer, which gives a cool, deep shadow to the cheeks, but does not stain. It has the consistency of a cream for a powder and is very easy to handle. Then the golden, illuminating Terra Naturi bronzer to add a glamorous glow 🙂 I improve my cheeks with a mineral highlighter from the new line of the Polish brand Kobo.
makeup for valentine's day – lipstick color
This year I am opting for strong red, although maybe it would suit the shadows and lighter coral. I still wonder between the muted, dirty red Bellapiere lipstick and the slightly orange Alverde lipstick. Or maybe a slightly burgundy Pierre Rene with a purple Burt's Bees lip gloss finish. Unfortunately, the name quickly faded from the packaging, but it's difficult, because the product is great, inexpensive, natural and cares for lips.
Pierre Rene lipsticks are my drugstore discovery last year. They are packed with butters, so they care for the lips, the composition is really good, the availability is a plus and a selection of colors! Miracle honey and plum.
Finishing makeup for Valentine's Day
Fixing powder and spray are essential for this beautiful, carefully made makeup to last as long as possible. For this purpose, I use Mineral Veil powder from Bare Minerals and Fixera Alverde. For a more dramatic effect, you can think of fake eyelashes or eyeliner, but I don't like that stunning effect. The only thing left to do is choose a perfume, also not too heavy, not choking, but still evening and romantic. I use Attimo, the ones I wore on my first date 🙂
Nails, hair styling and jewelry, and you're done, you're ready to go on your Valentine's Day date.
Where to buy the cosmetics used in the post?
Terra Naturi cosmetics are unfortunately only available in Germany – it is the own brand of Drogeria Muller. If you ever spot it, I recommend you come in and have a look. Inside, you will find several shelves with natural cosmetics, including eight cabinets with organic make-up products.
You can find Tk Maxx on both Burt's Bees and Bellapiere, which produces mineral makeup cosmetics. Burt's Bees is also available from online natural drugstores.
Alverde cosmetics are available in the DM Drogerie chain around the border with Poland. I don't remember which ones I bought in the Czech Republic and which ones in Germany, but they are definitely worth a look. Natural ingredients and prices from a low-shelf drugstore, plus very interesting products that look like typical makeup products. What more could you want?
Well, availability in Poland, Alverde! 🙂 Or at least the Alterra coloring sheets in Rossmann. Did you know that apart from care, they also produce make-up wonders? It is a similar brand to the Alverde color scheme. Dream!

And who said you can't get a full glam starting makeup for Valentine's Day using only healthy, organic cosmetics? I think that my natural and effective at the same time, perfect for a romantic dinner or an evening drink. At the same time, I am sure that nothing will irritate me, will not clog pores, will not get a rash or acne breakouts. It should also last a long time without corrections.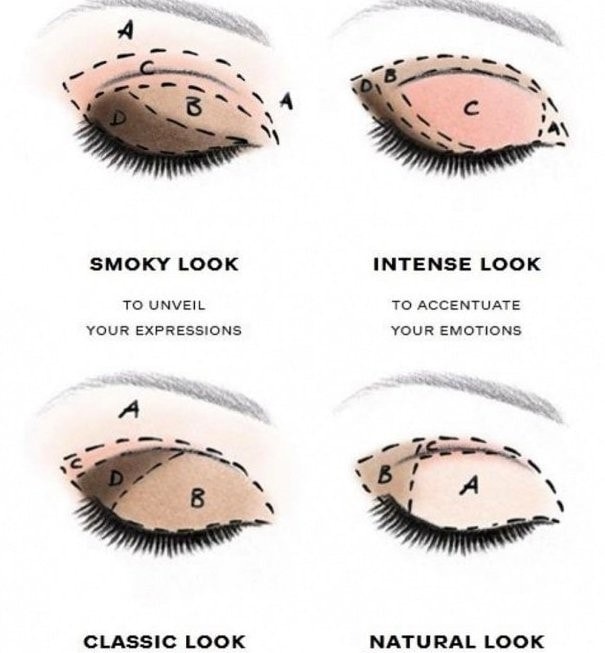 What do you think about my Valentine's makeup idea? Let me know if you want a full review of any of the products!
I embrace you heartily,
Asia.