Hey loved ones! Today I have for you a long time ago, we promise a post about cosmetic purchases that are worth doing in DM drugstores. As you know, stores have recently been available in Poland, initially as an online drugstore. However, I have often visited these brick-and-mortar stores in the Czech Republic, because my sister Ania, who also helps with the blog, lives in Prague.
We always look for cosmetics during our walks, so I thought that I would like to share our experience and testing of DM cosmetics with you.
So if you are interested in what caught my eye among store shelves, I invite you to the rest of the post.
Dm drugstores in Poland from May 2022
DM Drogeriemarkt is a popular chain of shops of German brands similar to our Rossmann Drugstore, which can be found everywhere around Poland. The assortment is large, and you can find both branded cosmetics and cheap, natural pearls with a good composition for body, face and hair care. In addition, a natural color scheme, new products and a lot of sales, which makes it one of my favorite stores. In the past, people traveled abroad for supplies of very cheap and beautifully scented Balea shower gels, soaps and deodorants, some even brought their entire trunks. I often went to the Czech Republic to buy natural colors and eco-care cosmetics, unavailable in Poland a few years ago. So what is worth buying when we have an online store?
Balea cosmetics
Balea is Drogeri DM's own brand cosmetics, very similar to the already known Isana. They are usually very cheap and usually with quite good compositions.
Here, I recommend a very cheap set of good and natural face care cosmetics: a delicate tonic, the iconic apricot milk for PLN 3 and a two-phase make-up remover, gels for cleansing the face. The creams are noteworthy: a set of 2 series of day and night creams.
The Balea Honey and Avocado series has wonderful foam, creams and face masks.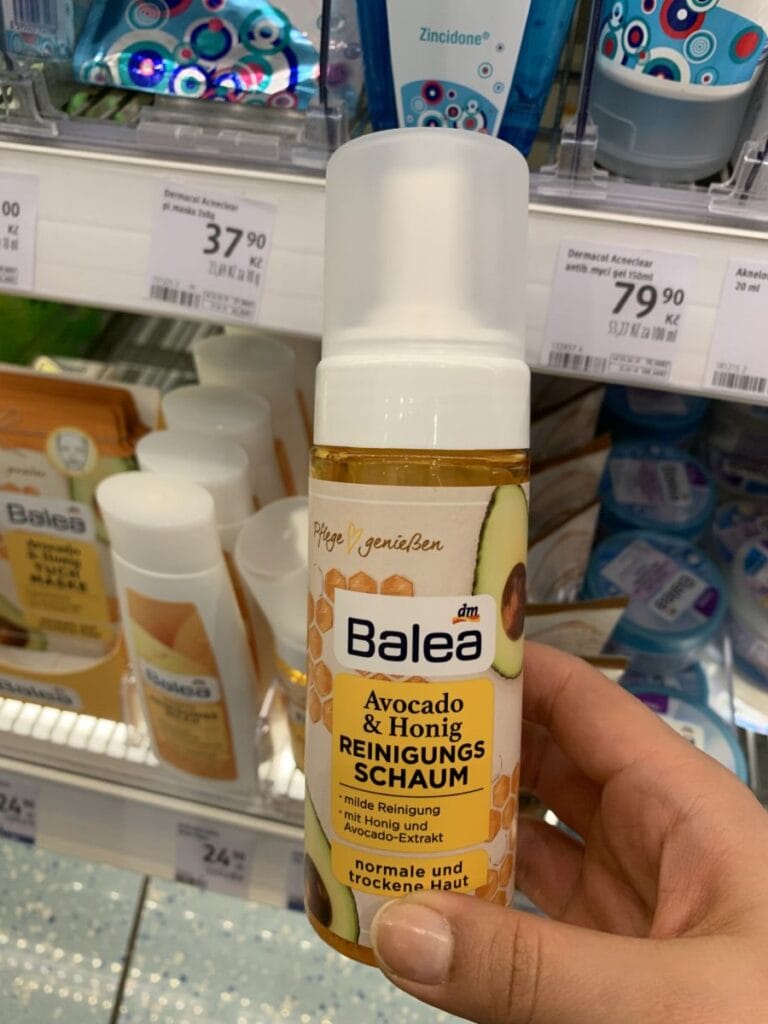 I also recommend looking at the face care series, Balea has definitely better compositions than typical Polish, cheapest brands. Very interesting cheeses, ampoules and face masks, the price of a penny:
Balea Bodyfit, the anti-cellulite series, also has good natural ingredients. I tested the body lotion and serum, they tightened my skin nicely. An interesting cream for the bust. Prices a bit higher, but worth testing. A similar anti-aging firming lotion and also with Q10, very similar to the old Isan. Anyway, all the lotions in these large packages had good prices and ingredients.
At Dm we also have a very large selection of deodorants with good compositions.
Balea, aluminum free deodorants
Great deodorants with interesting fragrances that change with the seasons. Probably the cheapest on the market in relation to price / capacity, almost all without alcohol and aluminum, often Sensitive and Ultra with amazing soothing additives. It's worth looking for them.
Balea gels and scrubs with divine scents, usually there is a whole series of care. The price is tiny, unfortunately the composition is SLS. My favorite:
Balea, Calm Down, Shower Peeling Gel
In the bathing section you can find real miracles – bath liquids and pearls, eco-glass salts, all kinds of balls and bath bombs.
Candies – bath hearts, perfect for a gift. The composition is also great.
I highly recommend the Balea aloe series, including the universal aloe vera gel for everything at a really low price. It was also used for my hair and as a face serum, simply brilliant. Simple and good composition.
In the same summer haul, I bought spray water – with the scent of aloe vera, green tea or jasmine, which kept my skin cool in hot weather.
Biopha nature, Weleda and other natural brands
There are many hermetic and larger brands of natural care cosmetics available at Dm and you should look for them.
I have often seen cosmetics of top brands like Garnier, Nivea etc. in eco series there, which have not been available yet (or will never be on the Polish market).
Alverde natural cosmetics
In DM you can also meet another private label, Alverde, very similar to the already known Alterra. We offer face, body and hair care. The ingredients are good, the prices are quite cheap and the cosmetics are eco and vegan, but they are also preserved with alcohol, so you have to keep that in mind.
Very interesting series of Alverde body care:
We have a really huge selection for testing here, I love butters, body lotions and family shower gels in huge bottles. For the body, this alcohol does not bother me so much anymore.
Alverde, a natural color from Drugstore DM
A wardrobe with natural make-up cosmetics, which you can only buy at Drugstores DM, similar to Alterra from Rossmann, but in my opinion they are modern and of much better quality. Prices a bit higher. Composition like a natural dye, if you like to test new make-up. I saw some very interesting things there, such as foundations and huge palettes for contouring the face.
Of course, in DM stores you can also buy healthy snacks, vegan food and a modest selection of oils and natural food; shelves similar to those at Rossmann. And very cheap hygiene items.
I will not do the whole review, because it is not worth discussing other typical drugstore cosmetics that we can find in Poland. But if you want to buy them too, DM Drogeria offers a modest choice of them. The Rossmann chain also has a very similar range to ours, you will surely find all the errands you need there.
Are you interested in cosmetics? What caught your eye most?