Hey guys! Today I wanted to share with you a recipe for a great poppy seed tart that I just invented. I made the fit cake for Easter and I must admit that everyone liked it very much. In addition, it is a very healthy dish, it contains a lot of fiber, protein and vitamins.

It is very easy to prepare them, all work does not take much time and does not need to be baked. If you buy ready-made poppy seed mass, instead of making it at home, the tart will be even faster – the whole thing will come out in less than half an hour! Additionally, you can use the same bottom for any other healthy friction, cake, cupcake or make delicious truffles. It sticks well and freezes. If you are interested in how to make such a healthy and tasty poppy seed tart not only for Christmas, I invite you to the recipe.
FIT chocolate poppy seed tart
Ingredients:
The brittle bottom is grated:
150 grams of coconut shavings
150 grams of nuts (I use walnuts here, but they can be different)
a small package of dried dates
Weight and topping:
ready poppy seed mass in a can or ingredients for its preparation
dark chocolate or home-made topping
dried fruit, nuts, decoration etc.
Execution:
First, we shell the nuts. You can of course buy ready-made by weight, but I have a supply of Italian at home and I wanted to use them for something at the end (according to the no-waste principle).
I pour the dates in a glass with warm, not boiling water. Enough to keep them covered. They need to soften a little.
I measure out the nuts and coconut and eat a mile together in the blender. A regular kitchen blender is enough – I have Braun. You do not need to grind them into dust, it is more about the particles becoming oily due to heat. This will make the dough sticky.
Now I blend the dates until smooth.
I mix both masses with a spoon, then combine and knead with my fingers, just like making a shortcrust pastry.
Finished! The mass is starting to stick nicely. If it is too dry you can add a little date water. We put it in the washed mold. Press the edges and lightly press the glass so that it is a fairly even, thin layer. The poppy seed tart is ready.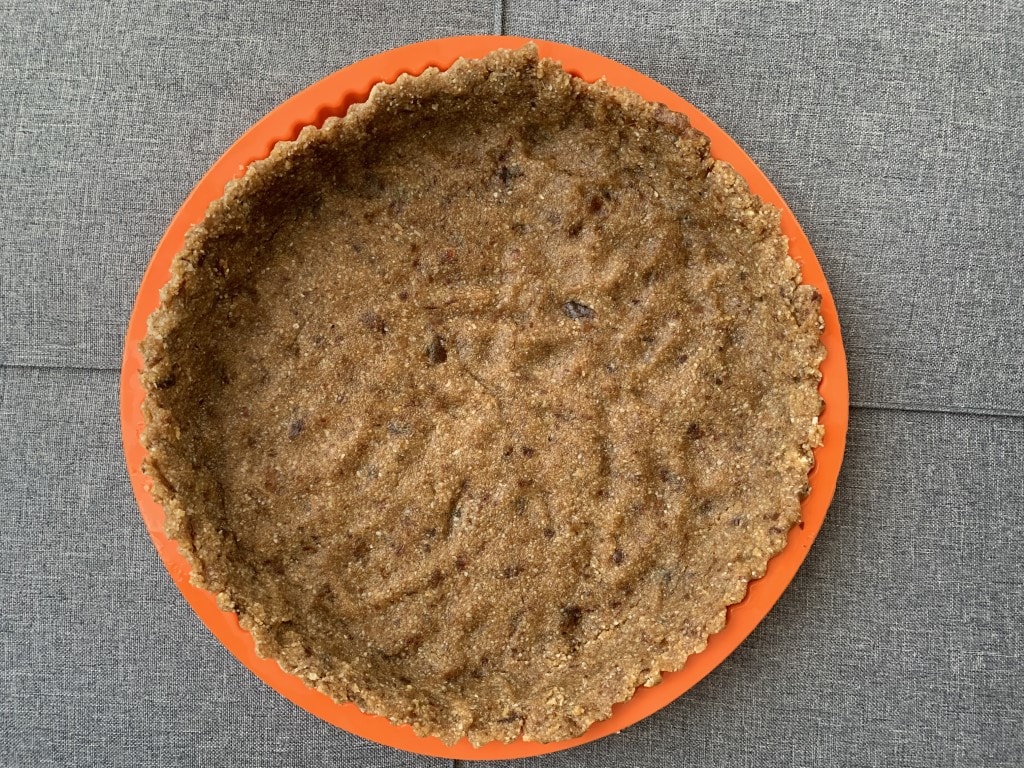 Put it in the fridge for a while until it solidifies.
If we have too much bottom, you can fold the edges of the tart like I did here, or we can also make delicious date truffles from this mass. They disappear in the blink of an eye! 🙂
We do not pour out the water from dates – we will use it to sweeten coffee or other cakes and desserts. Jets is a very healthy way to sweeten.
We prepare the poppy seed mass or, as I did – pour the ready-made mass from the store into the mold. You can add some remaining nuts and dried fruit to it to make it tastier.
The purchase mass is sweet and also quite wet – if you don't like it, you can thicken it with e.g. coconut flour or pudding.
We spread the mass evenly and make a glaze of melted chocolate (the easiest way – or coconut oil with cocoa and sugar) or just like I – you can grate the chocolate on a vegetable grater just above the dough.
Finished! Fast and easy right? The poppy seed tart has to be left in the fridge or freezer for a while, it is also best after one day of setting. Although mine didn't even arrive on the second day… It's delicious!
This is how the finished Poppy seed tart looks like. Perfect for coffee, for all holidays and other occasions. next time I will definitely try to make it with pudding mass and fruit too. Yummy!
Do you like such a fast and healthy recipe? If you try to make her, let me know how she left! Enjoy your meal!
asia