Hey! Today I have for you a long time ago, we promise a post about hair shopping, which is worth doing in DM drugstores. As you know, recently stores have been available also in Poland, like in the rest of the Europe, but at the beginning only as an online drugstore. However, I have often visited these brick-and-mortar stores in the Czech Republic.
When I go for walks, I always look for cosmetics, so I thought that I would share with you our experience and testing hair cosmetics with DM: masks, conditioners, stylers, etc.
So if you are interested in what caught my eye among store shelves, I invite you to the rest of the post.
Dm drugstores in Poland from May 2022
DM Drogeriemarkt is a popular chain of shops of German brands similar to our Rossmann Drugstore, which can be found everywhere around Poland. The assortment is large, and you can find both branded cosmetics and cheap, natural pearls with a good composition for hair care and styling. So what is worth buying when we have an online store?
Balea cosmetics
Balea is Drogeri DM's own brand cosmetics, very similar to the already known Isana. They are usually very cheap and usually with quite good compositions.
Here, I highly recommend Balea Locken, the series for curly hair.
The whole series is very interesting, both for care and styling. As soon as I saw these products on a store shelf at DM during a trip to Berlin, they immediately interested me and after a quick analysis of the ingredients, I decided to buy and test them. They were also very cheap, even without promotion. You can read a review of the foam and spray here:
Balea Locken, the cheap mousse and spray for curly hair
Balea hair series always includes a tube conditioner, mask, shampoo, sachet mask and a mini treatment that is only slightly more intense than this full-size series, so you can try them all out. Unfortunately, I haven't found anything more CG compatible or emollient, most of them are protein and HE or PEH, but there are some interesting gems. I recommend the yellow series with oils and the pink mask, which contains a very wide range of plant proteins along with keratin.
Balea Profesionnal, Oil repair hair treatment regenerating thin and dry hair
Here is a very interesting serum and a mask in a turban, in the drugstore you will find several types:
Balea conditioners from DM drugstore: mango and vanilla
Balea is like Polska Isana – for a long time it has offered well-known, cheap and great cosmetics for the care of not only hair. Unfortunately, without the alcohol in the composition, I had few products to choose from. However, I quickly researched the subject and found that many girls buy these products only for washing their hair. Thanks to this, alcohol does not dry the strands, because we only keep it on the head and for a very short time, on the contrary, it dissolves dirt and grease even better. So I bought two Balea supplements with the most interesting fragrances – because their compositions do not differ much from each other.
Review at the link: Balea conditioners from DM drugstore: mango and vanilla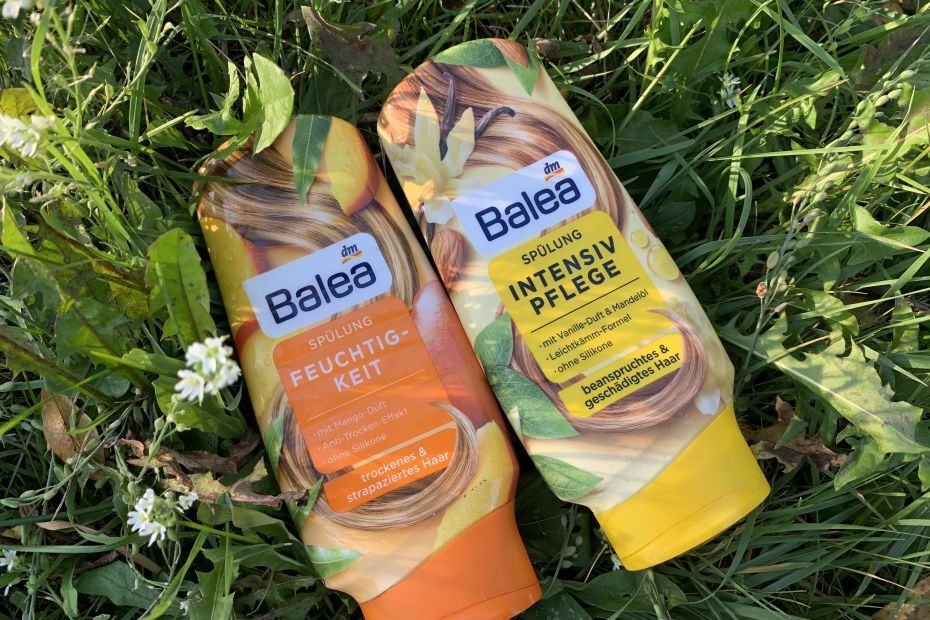 Balea also has very cheap conditioners similar to Isan, which contain alcohol but are great for washing your hair. The only non-alcoholic option is this bottle and a conditioner in a sachet from the same series, which I highly recommend during trips.
Of course, the aloe vera gel and cheap Balea tonic can be used as a base for hair oiling, they are amazing:
Alverde natural hair cosmetics
In DM you can also meet another private label, Alverde , very similar to the already known Alterra. We offer both hair care and styling. I recommend rich and natural masks and conditioners, which may dry out some of them, but are also great for emulsifying and washing the scalp – it depends on our hair.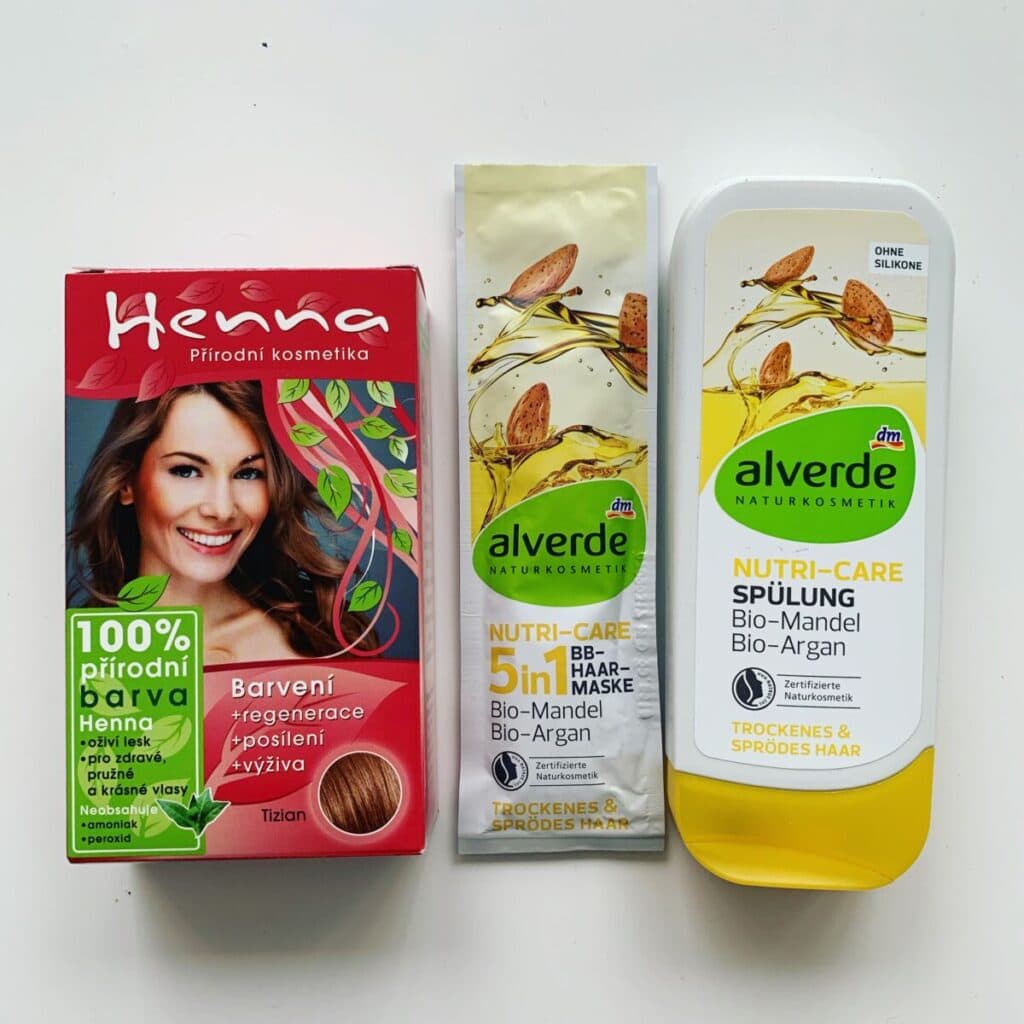 The ingredients are good, the prices are quite cheap and the cosmetics are eco and vegan, but they are also preserved with alcohol, so you have to keep that in mind. The set usually includes a conditioner, shampoo and a sachet.
There are also interesting oils for hair ends in DM, as well as interesting stylers and gels for old type hair, similar to Syoss – Balea Men gels , even several types, very cheap and most of them without alcohol.
Balea has a few hair perfumes (poor composition) and Alverde has an alcohol hair gel.
Langhaar madchen hair series
it's also an interesting "girly" series where I saw interesting perfumes, sprays and hair growth lotion. Lineups vary, but it's worth looking around.
Alverde naturschon
This is another variation of this brand, even more eco and with better ingredients, but unfortunately still on alcohol. I liked the hair series, there were even stylers but I decided not to risk drying it out.
Henna for hair with DM
In Czech stores, a whole series of Henna cosmetics is available, including shampoo, conditioner and interesting herbal paints. However, they are probably a local addition, but in the Czech Republic you should look for them.
Unfortunately, I did not see a large selection of hair masks or hair oils in the Czech store, but I saw Balea tonic and this expensive lotion with a very rich, herbal composition.
Balea MEN, Caffein Power Effect Strengthening Hair Tonic
Wcierka with such a composition – with caffeine and extracts – promises to be very interesting, especially since we still have few products of this type on the market, intended specifically for strengthening the bulbs and caring for the scalp. (edit: A similar product to Isan's tonic, even the bottle seems to be the same.) For me, it had a great effect on hair growth!
In DM there is also a very extensive and interesting section with hair accessories, I recommend you to look at brushes, massagers and curling rollers.
In addition, Drogeria Dm runs many typical, drugstore brands that we can find at similar prices. But I like that in each country they also sell airtight and niche brands of eco cosmetics with good compositions. I can't wait to check out the Polish stationary DM chain stores.
Are you curious about these cosmetics? What caught your eye most?