Hey guys! Today I have your reviews and my first results after a two-month treatment with the Viteamed Beauty Control dietary supplement .
The innovative formula of Beauty Control nourishes the skin, hair and nails, as well as overall strengthening and immunity. The natural ingredients contained in the preparation are the optimal balance of vitamins and minerals, selected to ensure healthy skin, strong nails and shiny hair.After all, each of us dreams of beautiful hair, a healthy complexion and strong nails. There are many supplements on the market that promise to help us with this, but this one was of particular interest to me because it works on many problems at the same time. It is therefore an optimized treatment that will not be a waste of time. I also liked the vegan composition and care of the packaging. For the last two months, therefore, I conscientiously take these little capsules right after eating. If you want to see how this treatment worked for me, I invite you to the following post with my thoughts.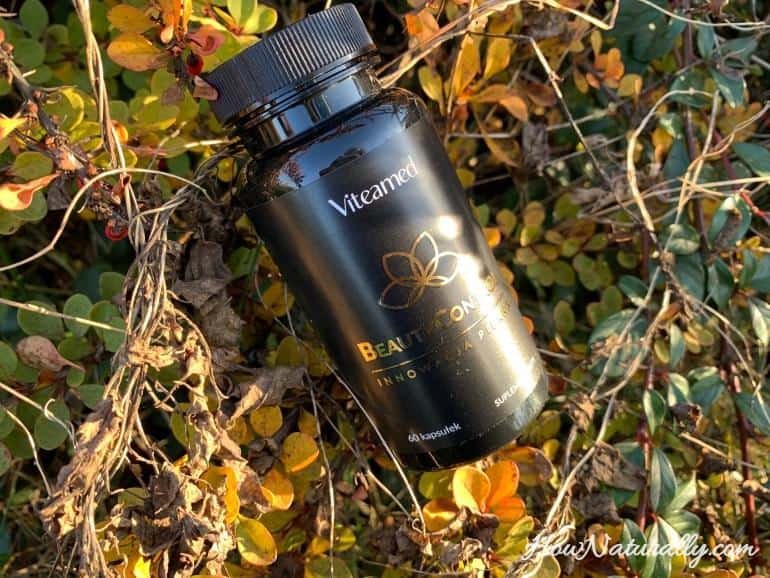 Beauty Control, Viteamed – an advanced supplement for hair strengthening and smooth skin
What is Beauty Control?
The innovative Beauty Control formula, developed by experts, nourishes the skin, hair and nails. The natural ingredients contained in the preparation are the optimal balance of vitamins and minerals, selected to ensure healthy skin, strong nails and shiny hair.
Beauty Control is an impressive set of nutrients that beautify from the inside:
Ashwagandha – has an antioxidant effect, reduces stress, is responsible for the health of our respiratory system.
Adaptogens – they take care of heart health, oxygenate cells and improve circulation.
Bamboo shoot extract – moisturizes the skin and slows down its aging, affects the well-being.
Hydrolysed collagen – restores skin elasticity, reduces wrinkles and regenerates the body.
Common nettle – strengthens nails and hair and is responsible for the vitality of the body.
Field horsetail – supports the circulatory system, replenishes the deficiency of micronutrients, and supports the circulatory system.
Soya proteins – Protein supports the reconstruction of new epidermal cells (protein of plant origin).
Zinc – helps in the proper synthesis of DNA, in protecting cells against oxidative stress and maintaining healthy skin, contributes to the proper metabolism of fatty acids.
Vitamin C – helps to protect cells against oxidative stress, proper production of collagen, contributes to the maintenance of proper energy metabolism, supports immunity and increases iron absorption.
Vitamin B6, B12 – helps in the proper functioning of the nervous and immune systems, contributes to the maintenance of proper protein metabolism, contributes to the reduction of tiredness and fatigue.
INGREDIENTS:
Hydrolysed collagen, standardized extract of the herb horsetail (Equisetum arvense L.) including 7% silica, * extract of nettle leaves (Urtica dioica L.), standardized extract of the root of the dormant (Ashwagandha) containing 5% withanolides, the substance filling-microcrystalline cellulose, vitamin C (L-ascorbic acid), bamboo shoot extract (Bambusa vulgaris Schrad.), soy protein isolate (incl. soy), zinc (zinc gluconate), capsule (cellulose), vitamin B6 (pyridoxine hydrochloride) ), vitamin B12 (cyanocobalamin).
Vegan capsule
BeautyControl is a 100% vegan product, especially for vegetarians and people who care about the environment, we used capsules made entirely of natural plant cellulose. We do not support the use of capsules made of animal gelatin, but they are the cheapest and therefore so popular with most manufacturers. As a result, our capsules are free of titanium dioxide and artificial dyes.
Beauty Control, my opinion:
Package:
Beauty Control capsules are closed in a simple, but very elegant, black package with a gold print. All thanks to the brand's logo and design, which gives us the impression of holding something luxurious in our hand. There is a protective cap under the cap. The package contains 60 capsules, which are medium-sized, I do not mind anything in them, they are easy to swallow and leave no aftertaste in my mouth. Take them twice a day, preferably after a meal. The vial could be smaller, as the tablets are 2/3 of their height.
Action:
I have been taking the Beauty Control dietary supplement only for less than two months, so it is difficult to comment on its effects, but I have already noticed a significant improvement in the condition of my skin, hair and nails.
My nails have become much stronger, I have no problems with white spots on the plate or bending tips underneath. I even managed to grow nails that were slightly longer than usual, and the nails covered with varnish looked really nice. Unfortunately, I have already broken some of them, I'm probably not used to them, but I hope for even better results after a longer treatment.
I didn't notice any special difference in the condition of the skin of the face or body. But I don't generally have any major blemish issues, so for someone younger with this acne problem, they might work better. The skin on the nose seems to be brighter, healthier, I have fewer blackheads, the T-zone is less oily lately and I have not seen menstrual pimples, which I am also very happy about.
My hair grew about 2 cm this month, but this is of course also an advantage of complex, conscious care, but I have noticed that I have a lot less loss and an increased rash of baby hair. Overall, I have the impression that there is more hair, it seems to be thicker, smoother, stronger to the touch and slightly bounced off the roots. So it seems that the best Beauty Control effect is nice for my hair!
My immunity and well-being have improved significantly, I no longer have severe headaches from the cold wind, as soon as I go for a walk, I feel generally stronger and a little more energetic. I welcome each day with more joy and somehow it's easier for me to focus on work, despite the stress and nasty weather. So here is the most positive effect.
Summary:
I know that the best visible effects start only after more than two months of using each supplement and you still have to wait patiently for them, but as you can see, I am already satisfied with these results and I will definitely continue my Beauty control treatment. It is a really good quality product, and its safe composition and healthy formula have been confirmed by laboratory tests. The product is not the cheapest on the market, but I think that due to the composition it is worth the price.