Hey loved ones! Today I have for you a long time ago we promise post-Fit and vege shopping from the Czech Republic, this time nutritional, or what is worth buying tasty and healthy in Czech stores. These will be fit vegetarian and vegan products, such as chocolate bars, desserts, yoghurts, ice cream, fit cookies, etc.
As you may know, I am currently on a ketogenic diet, but I am eager to try new things. My sister and boyfriend, on the other hand, remain veggie, which is why we cook all these delicacies for them. When I recently reviewed Solevita drinks from Lidl, you asked me for more of this type of posts, tips and reviews about valuable food products with good composition from stores. Now it's time for Fit shopping from the Czech Republic. So if you are curious what caught my eye among the store shelves while visiting Prague, I invite you to the next part of the post.
Fit vege food haul from the Czech Republic: what is worth buying in the Czech Republic?
Bowl, protein bars, ice cream and desserts
very tasty and cheap Fit products available practically everywhere. Especially noteworthy are the sugar-free cottage cheese bars! With us, it's only in the children's section and with poor compositions. Still, a healthier option when you crave something sweet.
Below delicious and cheap protein curd ice cream Misa:
As you can see, there are plenty of chocolate bars and ice cream. Below, a Koko coconut bar, a typical cheap counterfeit of Bounty, a bit less sugar and a tiny, cheap dessert.
Flavored protein yoghurts O% fat M Milko:
Clever, Sojovy Souk:
Quite a large and cheap soy bar of the old type of sweets, I bought as a curiosity – a lot of sugar. It tastes like protein bars, tasty, sticky.
M Milko, OvoFit, FIT vitamin curd dessert:
Another product of this company that I bought every day. Delicious, fruity cheese desserts with sugar, but good composition and enriched with vitamins. Cherry like a real, deep-tasting dessert.
Fit shopping from the Czech Republic, Racio and Emco cookies:
When I dreamed of shortbread cookies, I reached for these and dipped them in a cherry dessert. Racio Silouette is a chocolate-covered Fit biscuit. Muesli are rather crunchy grain and oat cookies with different flavors. Both delicious and very cheap. Below is the spelled version with nuts:
Raw Paleo, vegan keto chocolate bar:
Fun fact. A very small bar and universal – nuscarb, fit, vegan, keto, in the composition you can find fault with several things. It was tasty, like protein bars covered in chocolate, but overrated and expensive, I don't recommend it.
Selsky raspberry yogurt, Limenita juice:
Delicious cream flavored yoghurt with raspberries, I liked it very much. Typically exotic juice, but without sugar, too sweet, similar to Solevita from Lidl.
ReVital, chia and gooseberry, Fit gooseberry yoghurt I Billa Jahodowa, Fit shopping from the Czech Republic
Another brand of delicious yoghurts with vitamins, my favorite was of course gooseberries, a rare taste with chia. Bill's yoghurts, probably the cheapest in the world, tiny and super sweet – I strongly advise against it, I had to mix it with pure yoghurt. Typical, cheapest muesli bar to carry in your bag for a small snack.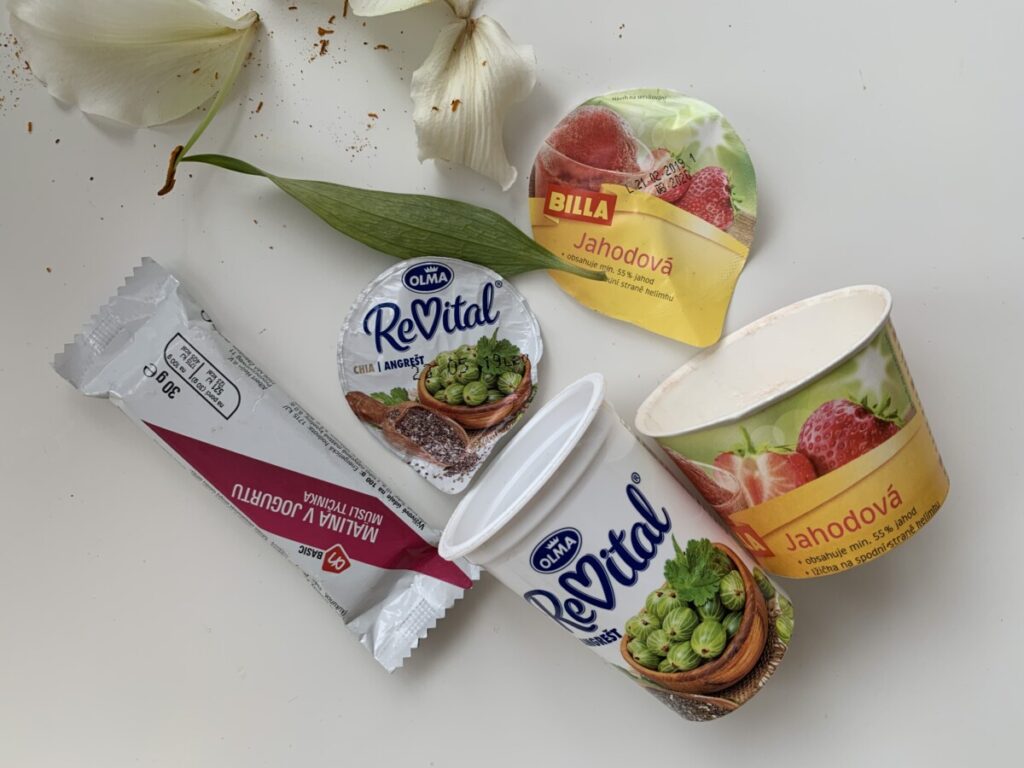 Ballino, Green cabana and Black cabana, Czech ice cream
At the end, typical ice cream in a large cup, we have similar buckets, flavors of toffee and fudge, but I haven't seen them yet. Tiramisu ice cream and pistachio, of course I had to try it. Too large portions at once and chemical, sweet, too sweet – not worth it.
Do you like such posts about veggie shop trivia?