Hey guys. Today there will be a new entry about less waste, i.e. how to use a hair oil that doesn't work for us? Well, each of us has several products in our bathroom that have been lying around for a long time. We simply forget about some, some do not serve us or we have too much cosmetics.
The most common problem is when the oil doesn't match our porosity and doesn't meet the needs of our hair. Or vice versa – it is too heavy and overloads our hair, it can frizz. Meanwhile, the expiry date is approaching or we are cleaning up and we don't know how to use up the bad hair oils. What then to do with a bottle of such oil? Certainly, let's not throw it away, it is harmful to our pocket and the environment.
Fortunately, oils have a wide range of uses in natural cosmetics , so without fear we will find another way to use the wrong oil: for the face, body and hair, but in a slightly different role. Check out my post on how to use hair oil quickly.
How to use an oil that has not worked for us? For hair:
Hair oiling with conditioner:
It is a great method of hair oiling, recommended especially for beginners. If the oil itself makes your hair frizzy, hair oiling should be better for this role. We choose light, silicone-free and moisturizing emulsions, e.g. with aloe, honey or high glycerin content, which will perfectly moisturize the length of dried hair, and oiling will lock the moisture in the cuticles for a long time.
Lightly soak the hair, e.g. with water spray, evenly apply a small amount of conditioner mixed with oil, then wash it off as usual.
Tuning the mask or conditioner with oils
Another method of using oil and … poor conditioner. Together, they'll work even better! To a too light conditioner, you can add a few drops of oil, herbal extracts, humectants, proteins, you can enrich it with aloe gel, clay, henna and even melted shea butter, etc. It's best to make small portions at a time, just before applying – you'll be sure that that nothing will break.
DIY oil mixes
Sometimes a mixture of several oils will work better than one that is not suitable for your hair. It works especially well with butters and castor oil, which is too blunt solo and heavy. You will find many such cosmetics in stores, but we can make it ourselves.
Mix a few oils in the bottle, remembering that the base of the cosmetic should be rather light, e.g. almond, rapeseed, olive oil. You can add fragrance oils and vitamin e, oil extracts.
Oil macerates made of herbs, spices or vegetables
A great way to use the oil is to make a herbal maceration, which is perfect for oiling, especially on the scalp – it will strengthen the bulbs, accelerate hair growth or flow well on the length of the hair. We choose herbs, both fresh and dried, Indian or field herbs. You can also macerate onions and garlic, flowers or carrots with face and body oil. Again, the base should be light, suitable for the purpose oil with the addition of heavier ones.
Body and scalp scrub
Sugar or sugar-salt scrub for hair and body is a DIY classic, as well as the no-waste coffee grounds – everyone knows by now! Light oils are also great for clay head scrub, because they provide glide for the paste and soothe any irritation.
Hair tip serum:
It's great, especially when we don't use silicones to protect our hair. We can make them from melted butter, coconut oil or a mixture of liquid oils. You can add fragrance oils and vitamin E, oil extracts and you can also give a few drops of silicone serum from the store. You can keep them in a small bottle. Such a serum will be less burdening and greasy than silicones alone, it will also be more nourishing.
Similarly, you can make a DIY spray conditioner for the length of your hair – with or without silicones.
Oil for kneading rusks:
Something for curly hairs. If the oil is too light to care for, it will be perfect for kneading and reviving hair.
How to use an oil that has not worked for us? For body and face:
Face masks and scrub
Oil is often added to DIY face masks, especially clay masks. Gives a glide, prevents the clay masks from drying out and, of course, additionally nourishes. I often use light hair oils as a base for home facial scrubs, homemade herbal masks and clay. I also often put the same mask on my face that I used for my hair – toned with moisturizers and oils. Saves time, only benefits for beauty, and a great way to use the oil in small portions but always.
Oil as a face serum
The oil can be used alone, as a simple face serum or mixed with a moisturizer, e.g. hyaluronic acid. Facial oiling helps to regulate the level of sebum, remove blackheads and relieve inflammation. A few drops of oil should be applied to a cleansed, moistened face, under the cream.
Enrichment of ready-made cosmetics
Both face cream, body lotion or hand cream will benefit from it when you pour a few drops of oils into them. The cosmetic will be thicker, richer and more nourishing. And the shop products are rather poor …
Washing your face with OCM oil
The oil that did not work well on the hair can be used to wash the face using the OCM method. Especially that then we will actually use a large amount of such oils.
For removing make-up
The oil is a great make-up oil, you can safely use it directly on a moist cotton pad or make a two-phase make-up remover out of the oil – it will help dissolve everything and leave the skin moist and soft. I often use this method when traveling so as not to waste too much cosmetics.
Body oil for dry hands
The oil can also be used as a lotion and body oil. Again, we use a base and a blend of oils, with fragrance and cooking oils. Use after washing on wet skin and wipe with a towel. You can also use shea butter and coconut oil, which are known in this method.
Oil for hands, nails and cuticles
Olive oil is a well-known and great method for weak nails, but we can also use other oils. Thanks to systematic oiling, the nails will become harder, moisturized, shiny, without discoloration and stronger. Soak nails in oil heated in a bowl or pour oil into an empty varnish package. Argan oil, castor oil, avocado oil, olive oil, Dabur oils with paraffin are suitable for this.
I also use such oils on dry hands, knees and elbows.
Bath oil
This is my favorite method of using disliked oils, I always put a few drops of any oil in a tub of hot water and liquids or bombs. In this way, we will perfectly moisturize the body, and the skin will become soft and elastic.
Body shaving
Shaving with olive oil for children, but also with ordinary olive oil, is a well-known way for years to smooth skin without irritation. We can use any oil in the same way. It gives the razor a good glide, softens the hair and makes it easier to cut. We apply a thin layer, shave and lightly massage the remains of the skin, then rinse.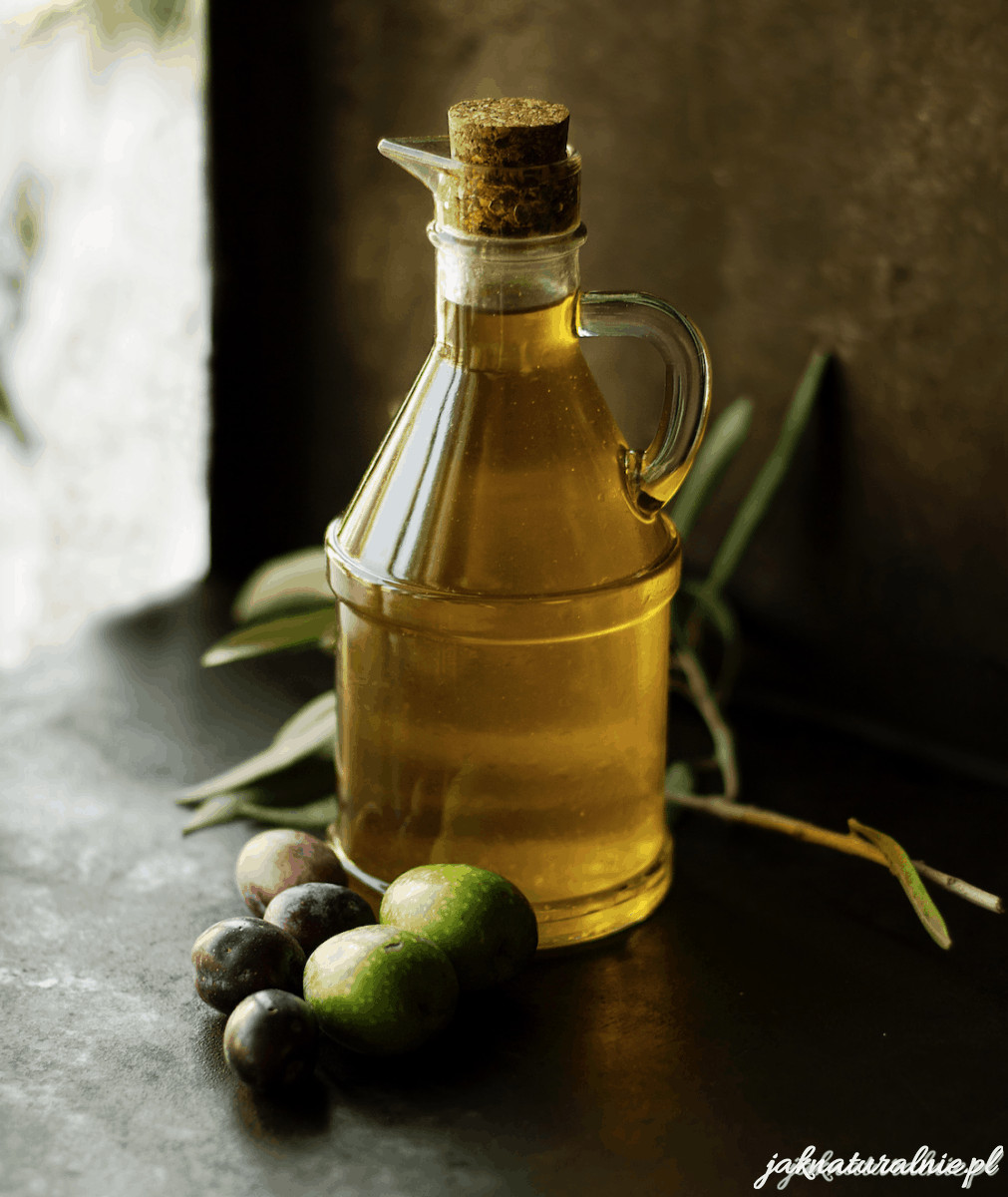 How to use an oil that has not worked for us? In the kitchen:
A side dish
Some of the oils can be safely used in the kitchen, adding them to salads, sauces, cottage cheese, vegan cakes or. other regulations. I often buy so-called oils. good quality food, which I can immediately pour into the kitchen and bathroom.
Nut, pumpkin and sesame oils are especially delicious and sweet, have a strong and nutty aftertaste, they are rich in omega 6 and 3 fatty acids, large amounts of vitamin E, suitable for desserts, pancakes, Asian dishes, vegetables, and cakes. Grape seed oil, coconut oil, avocado oil and olive oil are known for both frying and cooking. They are delicious!
As dietary supplements
Oils contain many vitamins and other important ingredients, therefore they are a good and natural dietary supplement. To make it easier to take them, you can mix with water or encapsulate, chew or rinse your teeth or mouth with oils. They have a number of health uses! For example, black seed oil increases the body's immunity, and
linseed oil can soothe menstrual pain.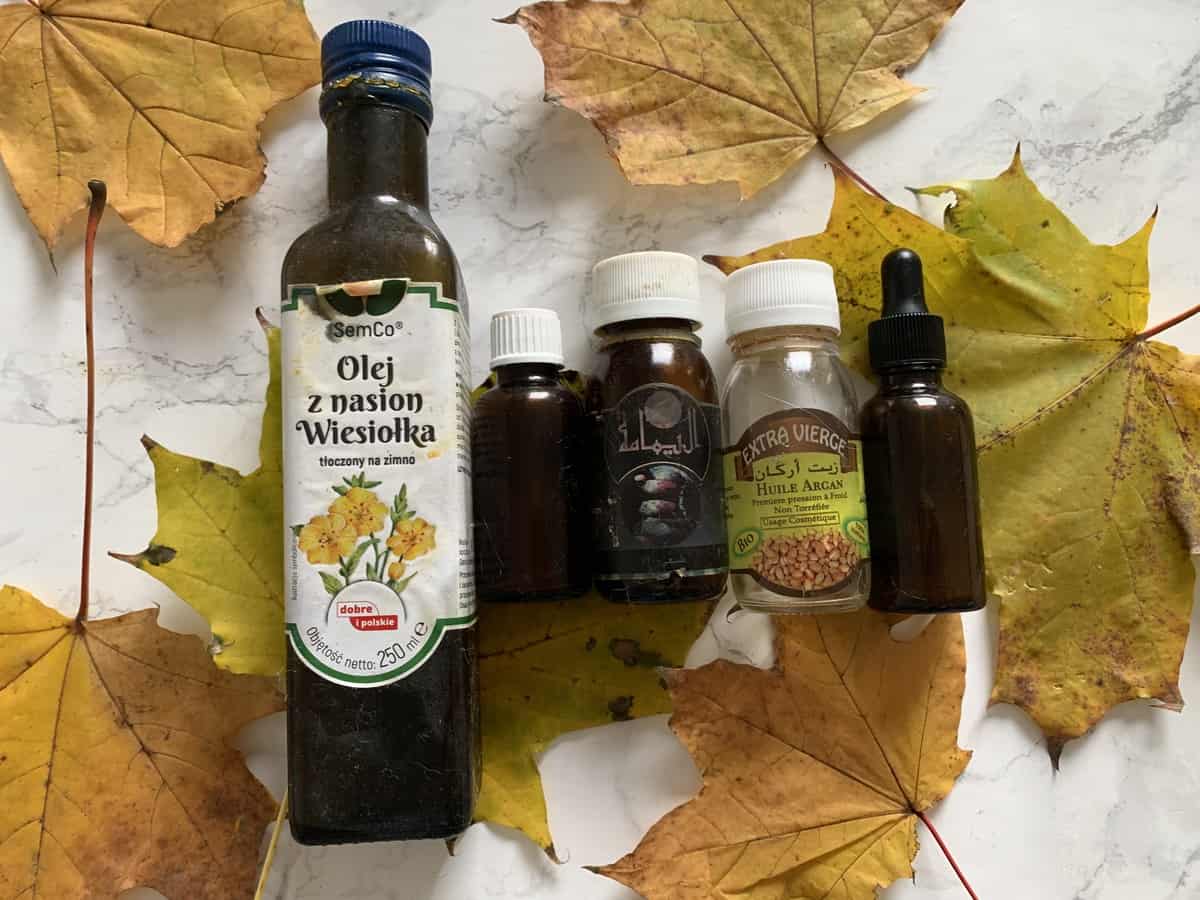 Weekly inversion method, bottom design or month of hair oiling
A great idea for a quick use of oils or blends is to do a bottom design or try methods to accelerate hair growth. Both in the inversion method and during my month of hair oiling, I used the oils daily on the scalp and length. A brilliant motivation to use cosmetics! Thanks to this, I was able to use a lot of products, including conditioners and masks, and my hair grew a lot!
Beloved, I have a request; if you know and use any other way to use the oil, hair conditioner or other hair products, describe it in the comment. I will be very happy to read your ideas, and for sure many girls will find it useful in finishing their stockpiles!