Hey guys! Today I have a long-promised post for you, a review of the popular Banfi hair lotions.
Even though I love making my own cosmetics, it is a bit of a time-consuming fun. That is why it is great that this Hungarian company is here to help us grow long and healthy hair, because this cosmetic has just such a task – to strengthen the bulbs and stimulate growth. If you are curious how the wcierka worked for me in this role, I invite you to the rest of the post.
Herbaria, Lady Banfi, Hair lotion
Banfi Hajszesz is a Hungarian scalp lotion with an original, unique recipe! The herbs used in its composition are full of natural sulfur compounds that stimulate hair growth . They make the hairstyle look great quickly! A daily scalp massage with Banfi is enough to shorten the time to achieve the desired hair length – in no time! Enjoy healthy, strong and long hair!
The Lady version is a classic Banfi lotion with a more delicate, more perfumed fragrance.
Active ingredients:
Horseradish – rich in glucosinolates (sulfur compounds), which stimulate circulation in the scalp, as well as in antioxidants, bactericidal and fungicidal substances, preventing the development of skin infections.
White mustard – you can know it from mustard oil stimulating hair growth. It is also rich in warming sulfur compounds, thanks to which the hair bulbs are better oxygenated and nourished. Your hair grows stronger with each massage!
Juniper fruit – rich in antioxidants, flavonoids and fatty acids, nourishes the scalp and stimulates blood circulation, leaving no room for pathogenic organisms on the skin.
Marjoram extract – rich in antioxidants and valuable essential oils, marjoram has anti-inflammatory and anti-dandruff properties, providing comprehensive care for the scalp and strong bulbs.
Banfi is a liquid full of herbal extracts with a spicy, slightly horseradish scent and a natural color. It consists of pressurized and then filtered alcoholic extract of horseradish, mustard, juniper and oregano. Wcierka stimulates circulation in the scalp, thus stimulating and accelerating hair growth.
Composition :
Alcohol, Aqua, Cochloearia Armoracja Root Extract, Brassica Alba Seed Extract, Juniperus Communis Fruit Extract, PEG-40 Hydrogrenated Castor Oil, Parfum, Origanum Majorana Leaf Extract, Phenoxyethanol, Ethylhexylglycerin, Citric Acid, Benzyl Salicylate, Linaloolhylolpro , Geraniol, Hydroxyisohexyl 3-Cyclohexene, Carboxaldehyde.
Capacity: 250ml
Price: PLN 19
How to use Banfi facial cleanser?
As the name suggests: we rub it into the scalp. We avoid applying conditioner along the length of the hair, alcohol can only dry it. For this reason, it is not advisable to use a spray bottle with a mist. Some wipers have handy packages with an applicator or spout, thanks to which we can easily spread the liquid along each part. Banfi lotion is easy to spill, I coped this way by pouring some liquid into the cap or glass. Then I applied the rub with a syringe. About 5 ml of the liquid is enough – we distribute it proportionally on the scalp.
Don't forget about the massage!
This is a very important element of applying a lotion. I can assure you that it increases the effectiveness of its operation by several dozen percent. Thanks to it, the skin warms up, the hair roots are better stimulated, and the active substances contained in the ruby ​​reach them more easily.
How to do a massage? You can find this and other useful information about hair scrubs under this post:
How to make hair grow faster? Wcierki!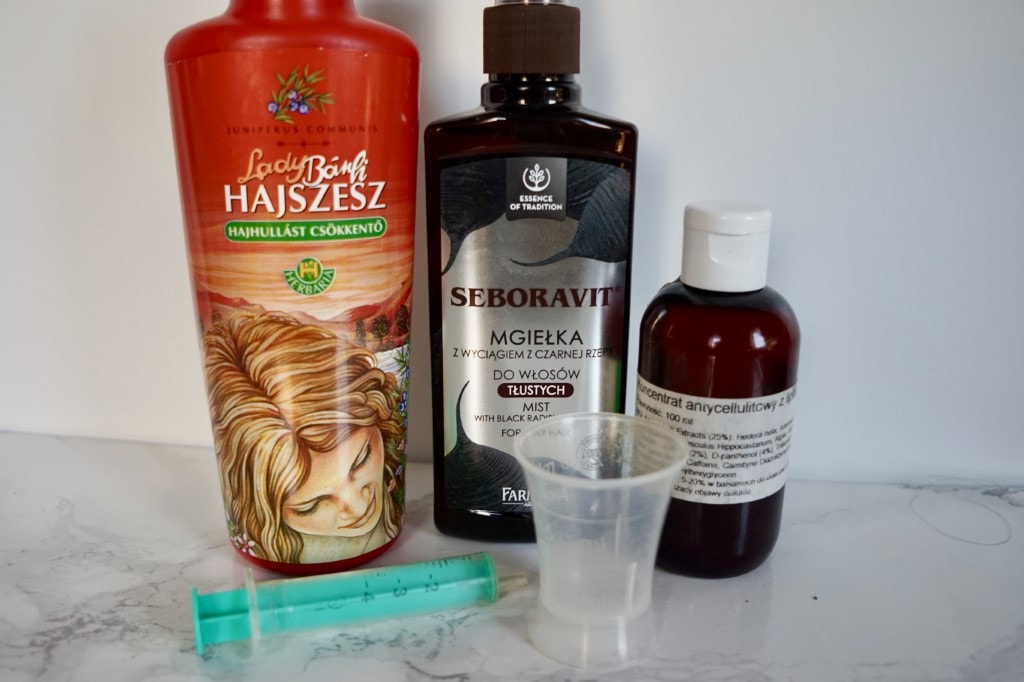 When to apply Banfi pad – before or after washing
The package says to use BANFI on a clean scalp, after washing your hair, then wash it again. This is completely unnecessary. I used this Banfi lotion for a long time after washing my hair and I consider it to be the optimal method. I did not notice the load, grease or splashes, nothing irritated me either. on the contrary, the hair was soft, lifted at the root, and loose. Smell – sweet, which flew away immediately.
Of course, you can also use Banfi before or after washing your hair, and even as a daily lotion without washing – it depends on you and what your scalp likes.
My opinion:
Package:
A bottle of red color, made of thick plastic. Vintage, colorful, aesthetic print. Unfortunately, the packaging does not have an applicator or a funnel, but it has a huge opening, so something often spills out. Finally, we buy the cosmetic with the neck protected with foil. There could be a spacer, a smaller hole.
Smell:
The smell of Banfi lotions is one of the biggest concerns when using it. As you can see, I have a version of the Banfi Lady, which is supposed to have a milder smell and the composition is almost the same as the original version. Not everyone will like the smell of horseradish, but fortunately I like it very much. Sweet horseradish, sugar and herbal, resembles a throat syrup. It quickly disappears after application as the alcohol evaporates.
I also sniffed the standard version of my sister Ania and it is not much different from Lady Banfi, it is still sweet and I like it. Of course, if you are concerned, always use the cosmetic before washing your hair or add an essential oil or a nicer-smelling liquid conditioner to it, it will definitely improve the aroma a bit. In the hair, I assure you, nothing can be felt.
Effectiveness:
Banfi Wcierka is dark brown in color, it smells like alcohol and herbs. The composition is good, although the alcohol in this rub is a big concern, but you will not feel it when you use it. I have a problem with alcohol products myself, but this time I didn't have to worry. I use Banfi lotions about 2-3 times a week, after each washing, on slightly dry hair. The syringe method I wrote about earlier – thanks to this, the product is very efficient and lasted for a long time.
I am just bottoming the bottle and I find that my hair really grew much faster. I also don't have any falling out. In addition, the hair is fresh and lifted from the roots longer, I can wash it less often. In winter, when I was wearing the hats, I was less greasy than usual. A very successful product, I found it very effective for me.
Summary:
As I mentioned before, this is one of the most effective toothpaste I have come across recently. It has great potential to maximize hair growth, so I have high hopes for it and will continue to use it regularly. I have a lot of baby hair and a lot of suckers, and I haven't finished my first bottle yet. I just bought the nettle version – after testing it, I will also review it for sure.
Banfi Wcierka is great for beginners because we see results quickly and it's easy to use. It will definitely help people with oily hair, itching and dandruff. This product is efficient – it has a large capacity, adequate to the price, it is definitely worth taking a closer look at.
Score: 5/5